dubai, united arab emirates - United Arab Emirates President Sheikh Mohammed bin Zayed Al Nahyan has appointed his eldest son, Sheikh Khaled, as crown prince of Abu Dhabi, the oil-rich capital of the Persian Gulf state, and named his brothers to top roles, state media said Wednesday.
Sheikh Mohammed, who became president and Abu Dhabi ruler last year after running the U.S.-allied OPEC oil producer for years, named his brother Sheikh Mansour as UAE vice president, alongside Dubai ruler Sheikh Mohammed bin Rashid Al Maktoum.
This appeared to further centralize power in Abu Dhabi, which is the political capital of the UAE federation of seven emirates by virtue of its immense oil wealth. Dubai is the Gulf's business and tourism hub.
Sheikh Mohammed appointed his brothers Sheikh Tahnoun bin Zayed Al Nahyan and Hazza bin Zayed Al Nahyan as deputy rulers of Abu Dhabi. Sheikh Tahnoun is also the UAE's national security adviser and controls a sprawling business empire.
By appointing prominent brothers to new roles, he kept 'some power-sharing balance, but only within [Abu Dhabi's] Al Nahyan clan,' Cinzia Bianco, research fellow at the European Council on Foreign Relations, said on Twitter.
The choice of Sheikh Khaled as crown prince reflects a trend across most Gulf Arab monarchies toward direct lineage - sons over brothers - for succession, including in Saudi Arabia.
Abu Dhabi has held the presidency since the founding of the UAE federation by Sheikh Mohammed's father in 1971.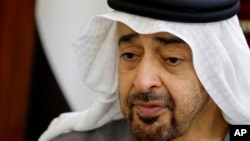 FILE - United Arab Emirates President Sheikh Mohammed bin Zayed Al Nahyan is pictured at Al Mushrif Palace in Abu Dhabi, UAE, May 15, 2022.
Sheikh Mohammed, known as MbZ, had been grooming his son for positions of authority in security - including intelligence - economy and governance, analysts say.
MbZ was de facto ruler for years before assuming power following the death of his brother last May, a time when the UAE's long-standing ties with the United States were strained over perceived U.S. disengagement from the region.
He led a realignment of the Middle East when the UAE, with Bahrain, forged ties with Israel in 2020 to create a new anti-Iran axis in the region while still engaging with Tehran to contain tensions with an eye on economic priorities.
The UAE has also deepened ties with Russia and China.
The country of fewer than 10 million people prides itself on its political and economic stability. It has one of the world's highest per capita income levels and is home to millions of expatriate workers who make up the bulk of the workforce.
In a separate decree Wednesday, MbZ named Sheikh Khaled as head of Abu Dhabi's executive council, the latest reshuffle at key entities in the emirate, one of the world's wealthiest state investors.
Earlier this month, Sheikh Tahnoun was named chair of the Abu Dhabi Investment Authority, among the world's largest sovereign wealth funds. Sheikh Mansour was named chairman of Mubadala, Abu Dhabi's second-biggest sovereign wealth fund.